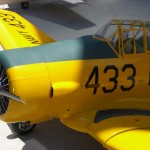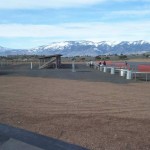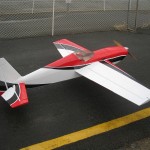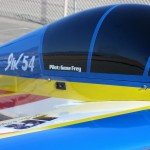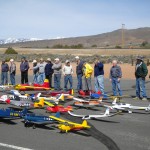 Next Event
On Saturday, August 23, we will again be having our Electric Fun Fly at the Pony Express Model Air Park, here in Carson City. In the last few years we have seen Jet Liners, ducted fans, biplanes, powered sail planes, big and small planes, and new electric aircraft. As many as 40 planes have shown up before and we were featured in Model Airplane News with a picture of the participants and their planes. The object of this activity is to fly electrics and have fun. There is no competitive flying or contest rules other than only electrics are to fly on this day and pilots are to follow local field safely procedures. AMA cards are required. We start at 9:00 a.m and fly until 11:00 a.m unimpeded by "gaseous" noise or the threat of being "slimed". Electric flying can continue after 11:00 up to and when you run out of OHMs.
Bring your all your electric aircraft, fly with us and have a good time. – G. Fuller Event Coordinator, HSRCC
Next Meeting
Please note that the next two meetings in September and October will be at the field at 12:00 noon. These two meetings will determine your leadership for 2015.
07/09/14 – Added June Minutes (draft). Log in to view.
07/02/14 – Added revised 2014 Roster. Log in to view.
07/02/14 – Added revised Schedule.
06/26/14 – Added June Newsletter